Your smile is the most important thing you will ever wear. Through cosmetic dentistry, we can help you achieve a more beautiful, inviting smile that boosts your self-esteem and allows you to smile with confidence. Dr.Jaipal Reddy, has the experience and knowledge in the practice of cosmetic dentistry to transform the appearance of your smile while also attending to function and to improve your overall dental health.
If you are interested in improving the appearance of your smile? isn't it time you called JP Dental Clinic to change that?
The various cosmetic procedures we do at JP Dental Clinic are:
Teeth whitening
Porcelain and composite Veneers
Crown and bridge
Tooth colored or white fillings
Dental Implants
Teeth whitening
Have you ever wanted a white, stunning teeth? At JP Dental Clinic, we provide professional whitening treatments that will help you in achieving a dazzling and brighter smile.when you choose to whiten your teeth with us, we will help you to find a perfect customised treatment options to meet your whitening needs.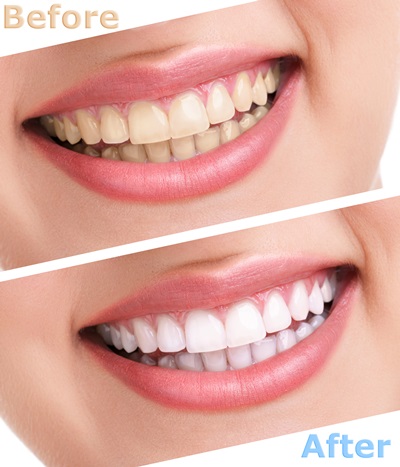 Discoloration of the teeth happens over a lifetime, is influenced by synthetic food colours, tea coffee, drinks like wine, habits (smoking, teeth grinding), and medications (Tetracycline). There is also a genetic component to the color of your dentin that affects how white your teeth are.
We offer two systems.
1. In-office whitening
In this method we use a high-concentration hydrogen peroxide gel that absorbs quickly and thoroughly into the teeth, whitening teeth from the inside-out. Whitening in the office call for one or more 45-minutes to one-hour visits to dentist clinic.
2. "Take-Home Trays" or home bleaching
Most of the patients prefer whitening at home, because it is very convenient, we start by taking impression of your teeth to prepare a customised trays to ensure correct amount of whitening gel is used and teeth gets properly exposed to the whitening gel, usually it takes two to four weeks to get a desired results depending upon the desired shade you wish to achieve.
Porcelain & composite Veneers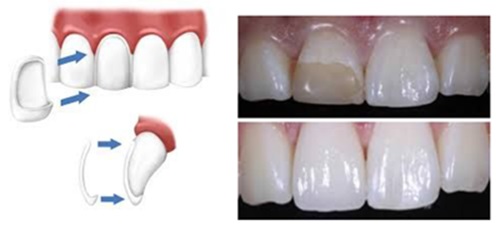 With the ability to cover many dental imperfections like discoloration, chips, cracks, minor alignment problems, and gaps between teeth, veneers are a very versatile cosmetic dentistry option. Thin shells of porcelain or composite material are bonded to the front of teeth to change their shape, size, color, and position. Many patients elect to get veneers on all of the teeth that show when they smile for a beautiful and uniform appearance.
Crown and bridge

Crown
As the name suggests, a crown is a protective cover or cap.
Your dentist may recommend a crown to:
Replace a large filling when there isn't enough tooth remaining
Protect a weak tooth from fracturing
Restore a fractured tooth
Attach a bridge
Cover a dental implant
Cover a discolored or poorly shaped tooth
Cover a tooth that has had root canal treatment(RCT)
Bridge

Bridge may be recommended if you're missing one or more teeth between existing natural teeth or implants
There are many different types of dental crowns available to choose from JP Dental Clinic, Our dentist will advise the best option depending on the location of the missing tooth(teeth), it's functions and aesthetic considerations and cost. Porcelain or ceramic crowns and bridge can be matched to the colour of your natural teeth.
From Root canal treated tooth to chipped, cracked, broken, decayed or missing teeth, your JP Dental Clinic dentist works with you to restore your teeth so that simple things like eating, talking and smiling are returned to normal.
White Resin fillings
Tooth-colored fillings are used more often than other traditional fillings like silver amalgam or gold due to technological advancement in cosmetic dentistry.these days people are focused on a white, bright smile and want fillings that blend with the natural color of their teeth.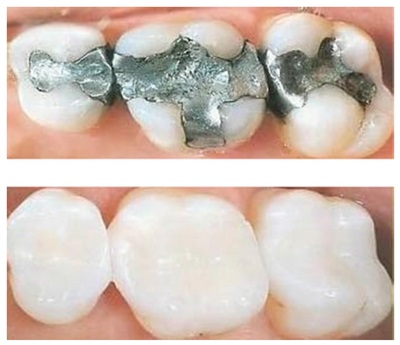 These dental fillings restore and mimic the natural appearance of tooth structure. In addition to restoring teeth that have fractured or decayed, tooth colored fillings may also be used cosmetically to change the size, color and shape of teeth. Quality and adaptability of tooth colored filling helps in closing gaps between teeth; repairing chipped teeth and making teeth appear to be more straight or even.
JP Dental Clinic believes in minimal invasive dentistry to preserve more of the natural tooth and we use composite resin filling which chemically bonds, and blends with tooth enamel and dentin.This can be used in either back or front teeth. It's a good choice for people who prefer that their fillings look natural.
Through cosmetic dentistry, we can help you achieve a more beautiful, inviting smile that boosts your self-esteem and allows you to smile with confidence.
Dr.jaipal reddy will help you choose one or more of our high-quality cosmetic dental treatments based on your personal needs and desires. This individualized treatment plan will help you accomplish all of your goals for the smile of your dreams. We invite you to contact us today to learn more about cosmetic dentistry and how we can improve your smile's appearance. We look forward to helping you reach the attractive, healthy smile you deserve!